Preseason 2011: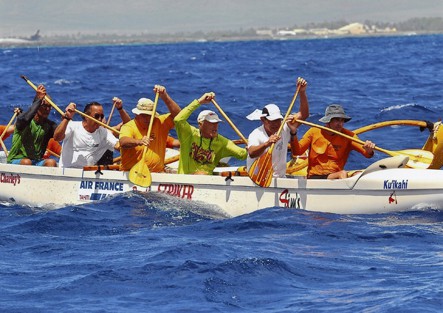 65s in action during the Keahiakahoe's Kahiau race, which was the first of the annual series of preseason ironman races.
Nappy and a group of his prime time paddlers traveled to New Zealand for the Takapuna Cup in late February. This event includes both OC1 and OC6 races from a beach location near Auckland. They found the competition pretty stiff as there was only a 50+ division but it still was a very worthwhile and enjoyable trip.
Kanaka Ikaika season: Anuenue paddlers participating in this year's races included Aaron and Riggs Napoleon, Gaylord Wilcox, Nappy, John Makua, and Pete Caldwell. In the State Championship race, Aaron was first in the long course 40-49 division and 7th overall. John Makua was first in the short course 30-39 category while Gaylord took third in the Kapuna division.
Coming up soon are several relay events including the Molokai-Oahu race on May 1st.
Relay Trifecta
Gaylord in Anuenue green finishes the Moloka'i relay.
Anuenue paddlers raced in three preseason relay/OC1 events. First up was the Maui-Moloka'i event with Aaron placing 13th overall and 2nd in the 40-49 category. Nappy and Gaylord were looking for a 60s division but had to compete in the 50s taking 6th. Riggs teamed up with Kai Bartlett and took 2nd in the relay division and 28th overall.
Kaiwi Channel Relay: Aaron and his Aussie partner Mike Mills-Thom were 5th and first in the 40s. John Makua and Jim Sawyer were 55th overall (100 entries). Nappy and Gaylord were 2nd in the 60s and 71st. Nappy got to battle with grandson Riggs early in the race with the youngest Napoleon and partner Nicole Spalding ending up 84th overall. Just a matter of time!
Kauai Challenge: Kai Bartlett and Aaron took top honors on a wild day off the Garden Isle. Nappy and Gaylord were 2nd in the 60s (the 69ers with Nappy closing fast on birthday #70 on May 9th!).
Golden Age Games:
Anuenue paddlers joined three other canoe clubs in providing canoes and assistance for an enthusiastic group of Golden Age Games participants on Memorial Day weekend. Held every year for the past 25 years, this annual event for veterans 55 and over includes competition in events ranging from horseshoes to cycling. Coming to the islands for the first time, organizers decided to add outrigger canoe paddling as an "exhibition" event. It turned out to be a highlight experience for everyone involved as some veterans had never been in a canoe before especially those with a variety of handicaps. Each canoe had three veterans along with canoe club members and a course out the Hilton channel and off Waikiki and return brought huge smiles to all.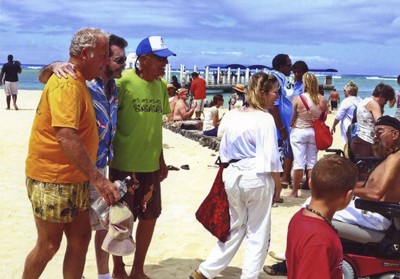 Hardy and Pete help a California vet back to his chair after an exhilirating canoe experience.