Distance 09
Duke race: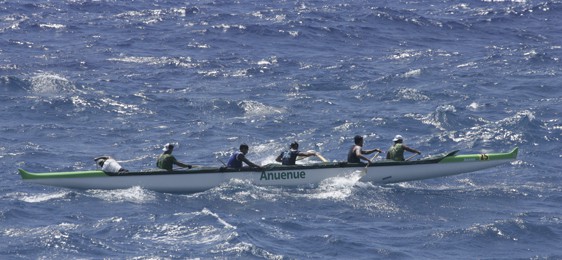 Two Anuenue crews made the trip around Makapu'u in the annual opener for the men's long distance season. Despite several huli's, the open crew hung in there for a creditable near middle of the pack finish. Doing even better was the 40s crew who ended up taking second in their division.
Kailua Iron Challenge: Taking a well-earned first in their division, Nappy and the 65s battled some serious conditions that saw the course altered for the Kailua event. It was definitely a steersman's race, and the crew made it a memorable race by riding two mammoth screamers outside Flat Island. The course featured a rough right hand turn around Bird Shit and a long haul to a turn buoy outside the Mokes which were ruled out of bounds by race officials due to the small craft conditions.
Moloka'i Hoe and Na Wahine o Ke Kai:
Anuenue's wahine crew battled though some adversity aka as hulis to complete this year's event with big smiles and satisfaction. Two weeks later, three men's crews had their shot at a channel that looked like a potential grinder with trades missing in action on the day before the race. Thankfully the Kaiwi gods were benevolent and the winds returned so although somewhat sloppy overall, the conditions were closer to a normal day except for some big swells from the north off La'au early in the race. Nappy and company notched his #52 and came in third in the new 60s division in 6:34:23 while the open (40th, 5:51:03) and 40s (62nd, 6:12:07) crews had a solid day in a race that saw a record 111 entries.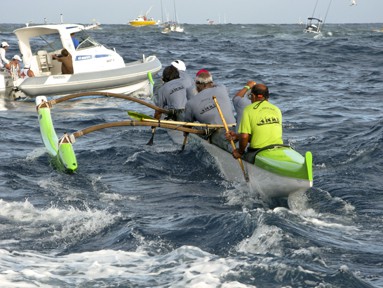 Needless to say, a little congestion around the first change.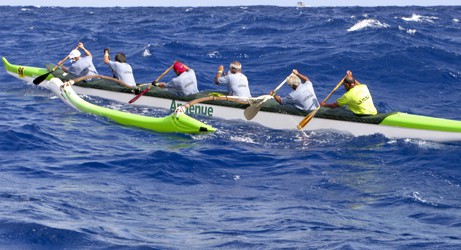 60s in the groove in mid channel.
Blue Makua:
In the post-Molokai event for prime time paddlers, two Anuenue crews did well with the 40s taking the men's race and the 60s a close second in their division. As usual, good times, bragging rights, food and music were featured.