Clement D Paiaina 6/7/2015 Keʻehi Lagoon:

Scorcher at Keʻehi! It was a long, sunny day for the regatta season opener as OHCRA clubs got back in action. With some changes in the race schedule and a somewhat late start, paddlers were still in action past the five oʻclock hour. Hui Nalu with over 400 registered members this year and Kailua ended up in a tie for the overall title beating out Outrigger and Lanikai in the AAA division. For Ānuenue, competing once again in the single A category, thanks to an enthusiastic wahine contingent, the club ended up with 11 points and a third place finish behind winner Leeward Kai and Waimanalo The best club finish was a second by the womenʻs 60s crew while the prime time 65 women took fourth in their race.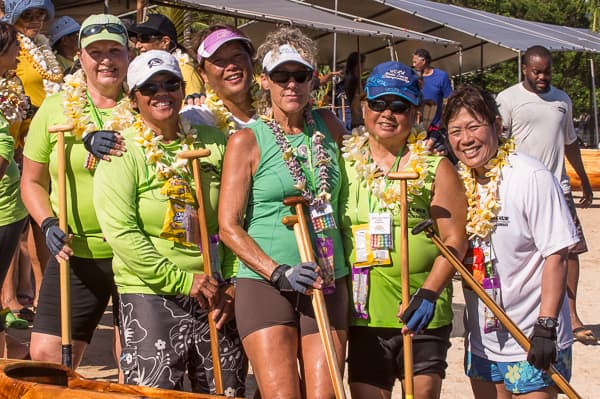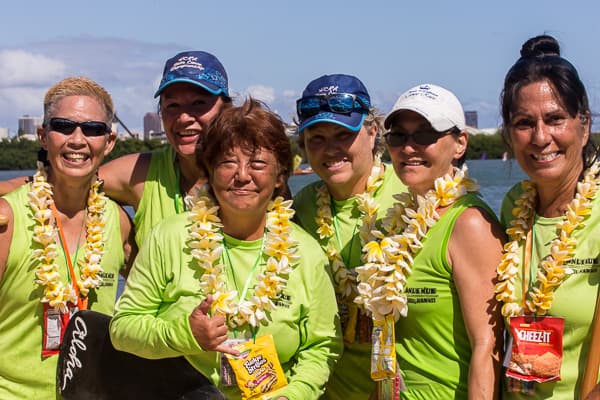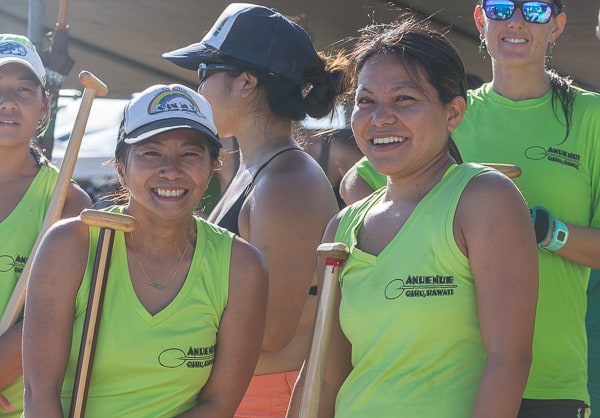 Ānuenue wahines all smiles! More regatta photos at pekelo.smugmug.com in the Sports 2015 paddling galleries.
Kamehameha Regatta 6/14/2015:
Kailua Beach was good to paddlers in the annual Kamehameha regatta with a mellow ocean, manageable shorebreak and beautiful weather. Hui Nalu took the overall title besting Outrigger in the AAA Division. Ānuenue ended up third again behind winner Leeward Kai and second place Waimanalo. The 60s women came close to knocking off first place Hui Nalu in a tight battle to earn five big points. Other club point getters were the 65 women and gentlemen. The mixed open crew came close to taking the last race (#43) of the day finishing second in their heat and a very creditable seventh overall. Way to go all you new enthusiastic paddlers especially the Deutschland contingent! After helping our Hui Nalu friends with their canoes (as we are using one of theirs again this season), the day wrapped up with our hungry paddlers polishing off a table still loaded with food and goodies!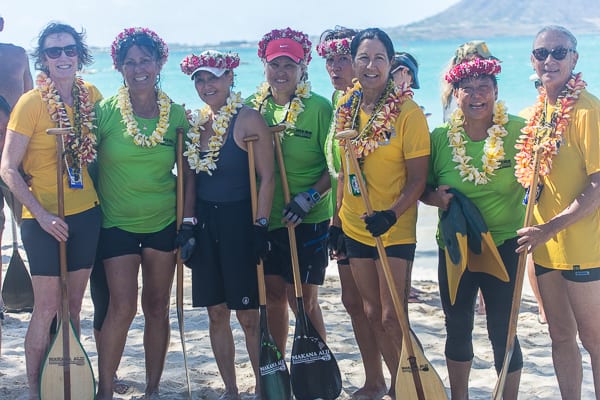 Weʻll get you next week! First place Hui Nalu and runner up Ānuenue.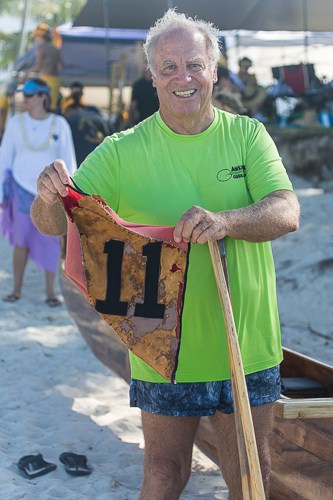 Whaddya mean we need a new one!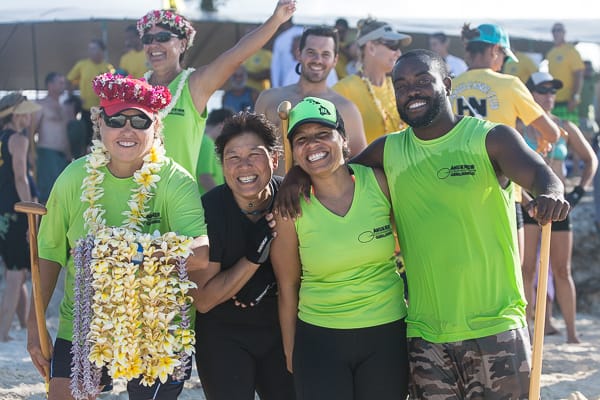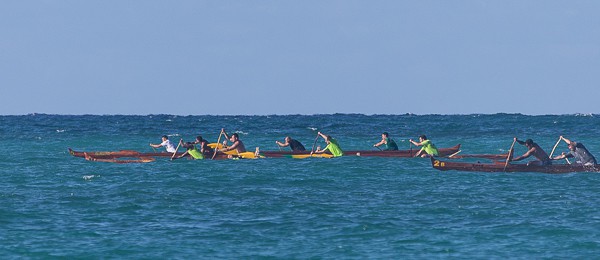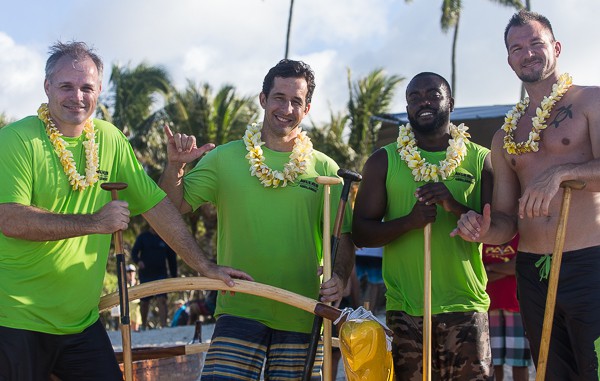 Lane #11 Ānuenue boys enjoying the moment.
An Uncle Nappy assist!
Mixed open off the line and a second place finish! Nice going!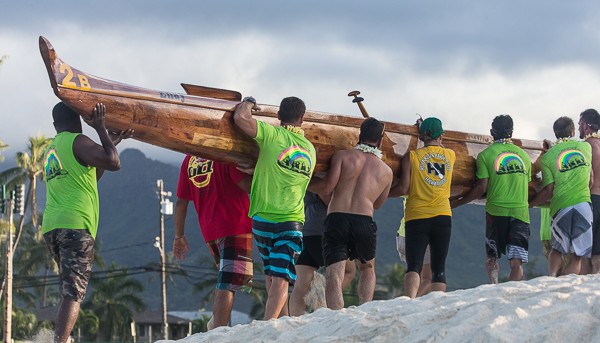 A litttle help for our friends!
As always, more regatta photos: pekelo.smugmug.com in the Sports 2015>Paddling galleries.
Fatherʻs Day Regatta 6/21/2015: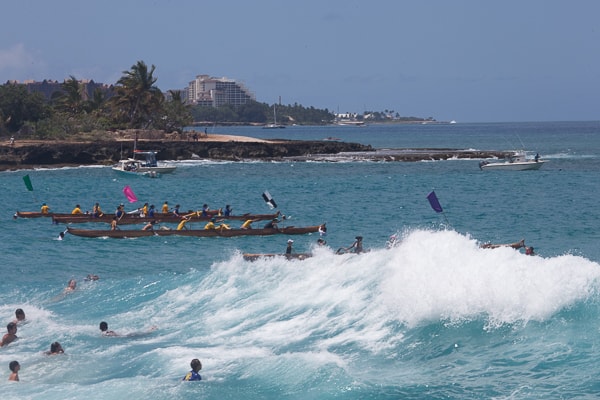 It was another beautiful summer day at Nanakuli Beach for the Leeward Kai Fatherʻs Day regatta. West side surf generated some shore break at the north end of the beach this year providing some excitement for the youngsters and keeping the lifeguards busy. Some mid-day wind also created a little chop on the race course with bumpy conditions. For the club it was a breakthrough day topping the list of A division clubs with 18 points; itʻs been awhile! The 60s women were solid again in second place while both 65s ended up third. Unexpected points came from the debut race for a new open-4 crew finishing a strong fourth out of 11 crews. These guys may be ready for a Novice B entry next week at Waimanalo. Watch out!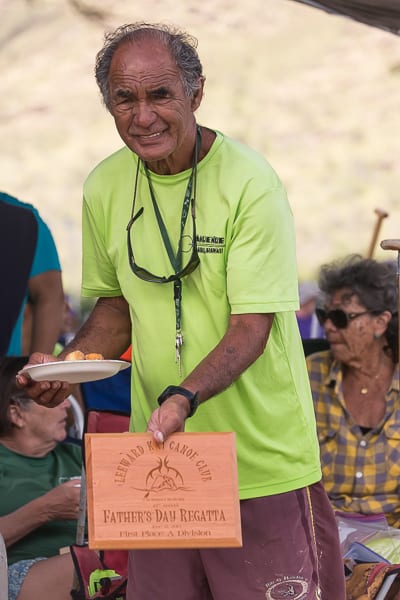 Oh yeah!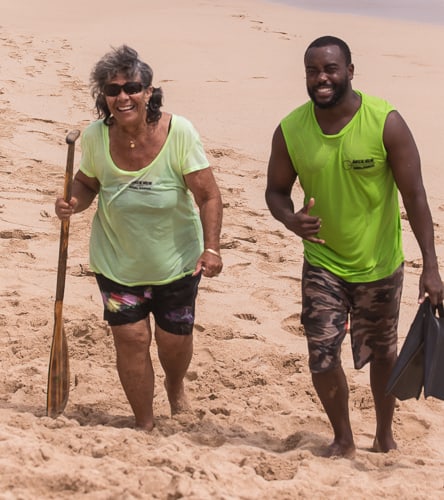 Enough energy for a charge up the beach!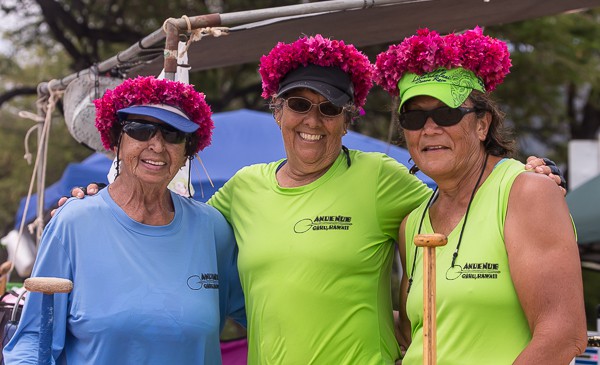 Celebrating a third good for a bronze medal. Nice going ladies!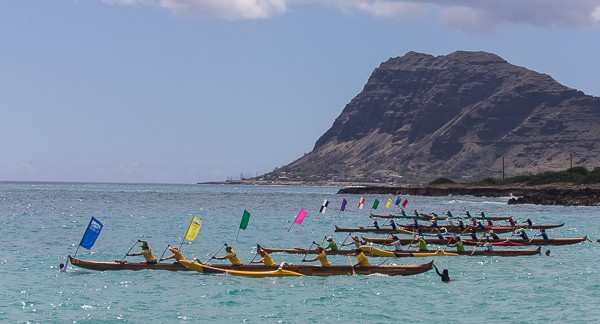 Off the line in the womens 50s – Ānuenue in lane 2.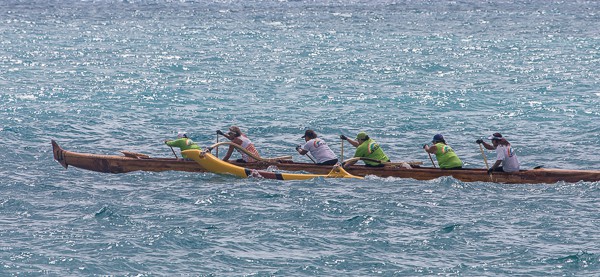 Go for it!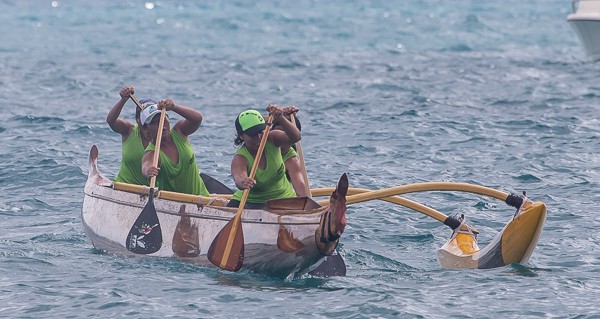 Open-4 at the finish and all smiles afterward!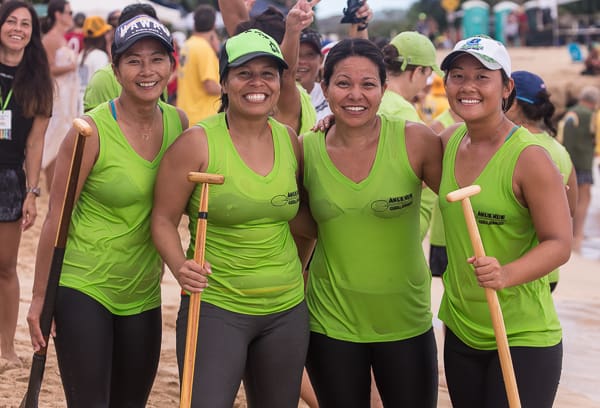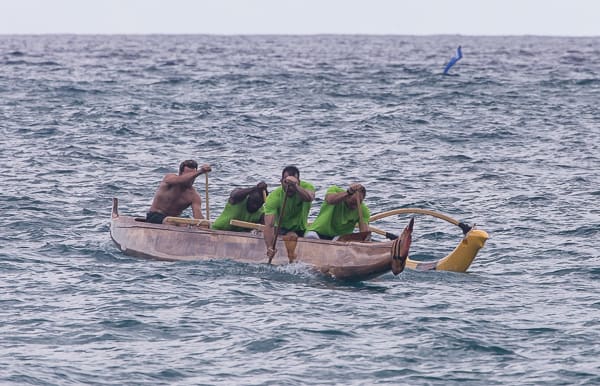 Where did these guys come from? Good job, gemtlemen!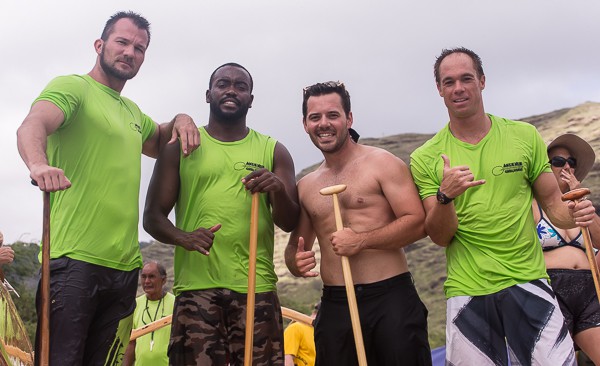 Stay tuned for next week at Waimanalo!
Waimanalo Regatta 6/28/2015: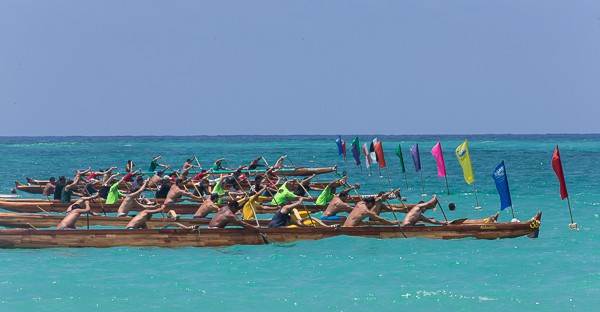 Waimanalo was at its best, and everyone had a chance to enjoy a day at the races. Although the ocean was pretty mellow, there were as usual some upside down boats. The hosts had a good day and took the "A" division by a 12 point margin over second place Ānuenue. Of note for the club was the debut race for our Novice B crew, and they paddled a strong race coming in third, missing out on a MacFarlane qualification by a single point.For the womenʻs 60s, it was a highlight day with a first place finally edging out their Hui Nalu rivals in a very tight finish. The last race of the day found Darryn Napoleon back in action steering our open mixed crew to a second place in their heat. Welcome back, Darryn!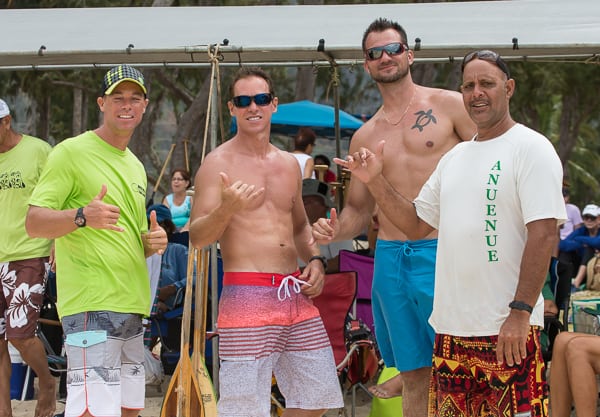 Talking story with D!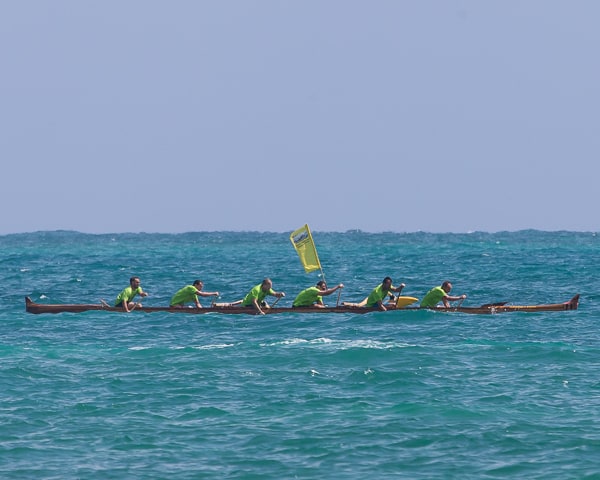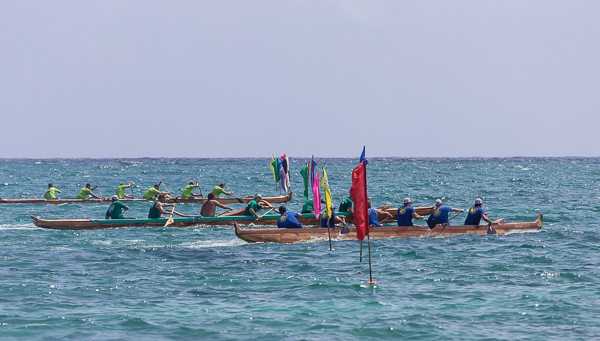 Novice B guys in action – third in the turn.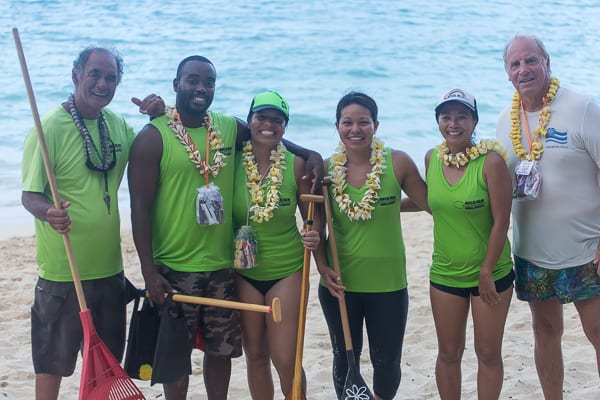 Mixed open crew plus Nappy with his "paddle"!
Next up: Waikiki Beach and the Macfarlane – swell coming???
MacFarlane Regatta: 7/4/2015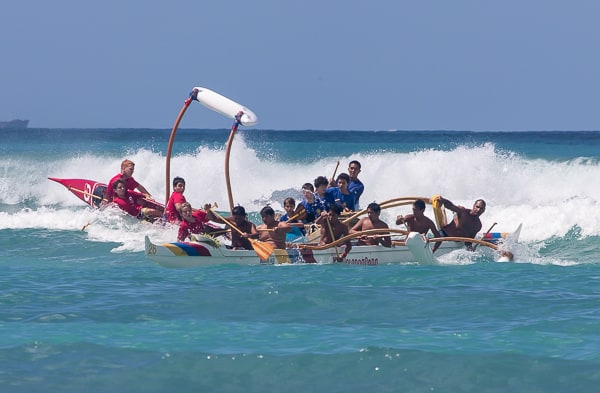 MacFarlane Regatta 7/4/2015:
Surf was definitely up for this yearʻs ediotion of the races. In fact, it turned out to be an epic daywith hulis and swampings galore! At one point early on, there was even a break in the action in order to consider cancelling the quarter mile events due to safety concerns. Because of the delays, all the races couldnʻt be completed by the 6 PM deadline, and unfortunately some crews were left at the starting line and were not able to race when the regatta came to an end.Ānuenue racked up some points as the day wore on and finished the day tied for fourth place in the "A" division thanks to the same crews as usual plus a bonus third place by the womenʻs 50s. Nappy did all the steering and no doubt had little trouble sleeping that night after another ironman performance including three races in a row.
Next week back to the regular regatta schedule and a trip to Kaneohe MCAS.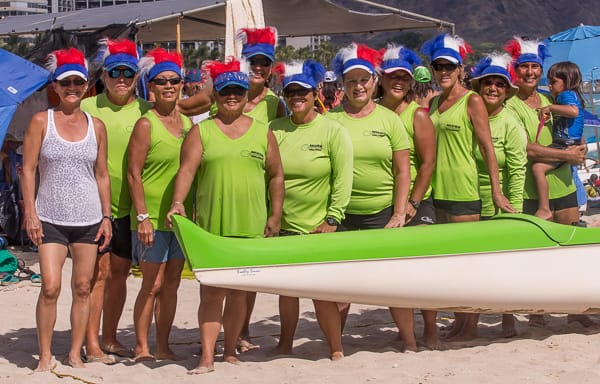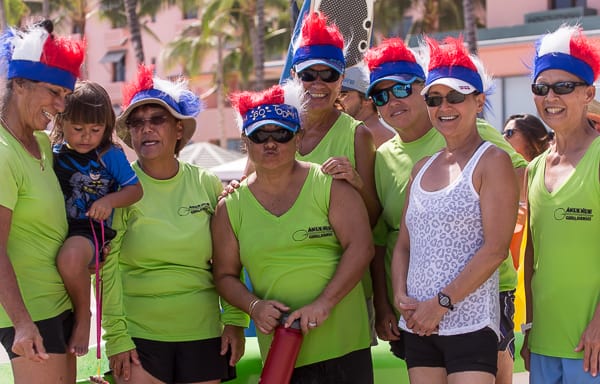 Fourth of July ladies!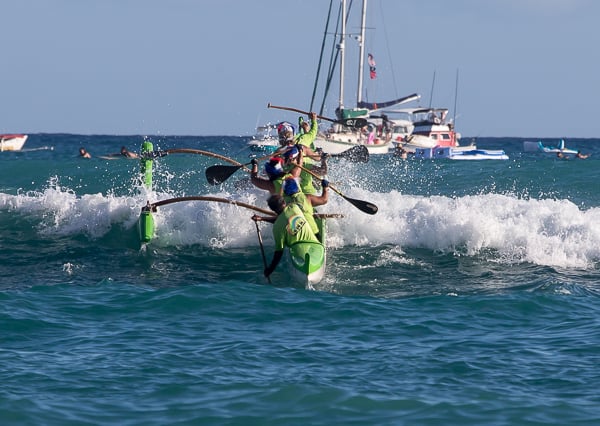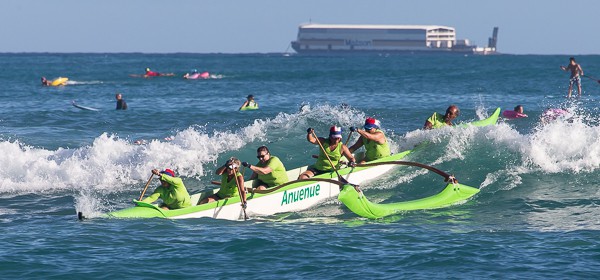 A little excitement for the womenʻs 50s!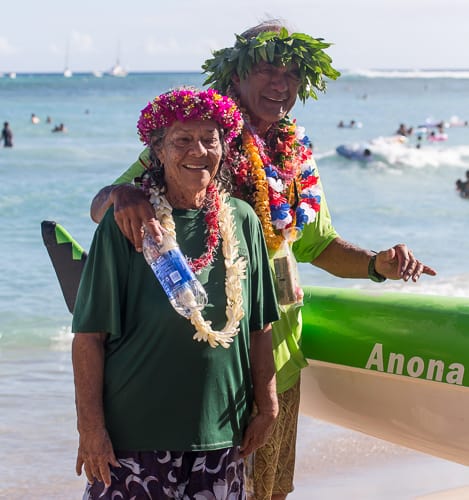 Anona and Anona – nice job!
More MacFarlane photos: pekelo.smugmug.com in the Sports 2015 Paddling galleries.
Kaupiko Regatta 7/12/2015: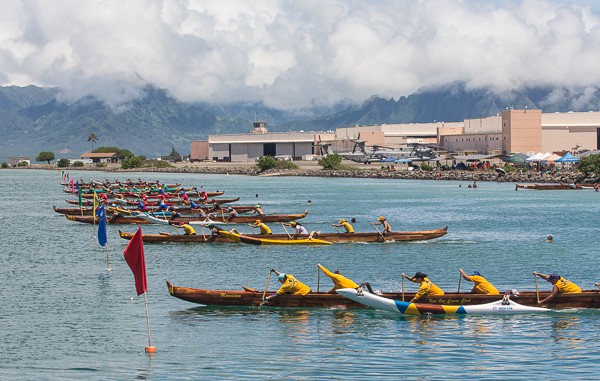 The day started with clouds and darkness but following a classic rainbow and clearing skies, the regatta took place with ideal water and lots of sun for most of the competition. Ānuenue finished the regatta tied for fourth place after losing some points on a technicality resulting involving the womenʻs 60s third place. The highlight was the continued improvement of the Novice B men, now being recognized as a real threat for top honors in the event. The boys are looking forward to next weekʻs regattsa and a chance to top off the OHCRA season with a gold medal.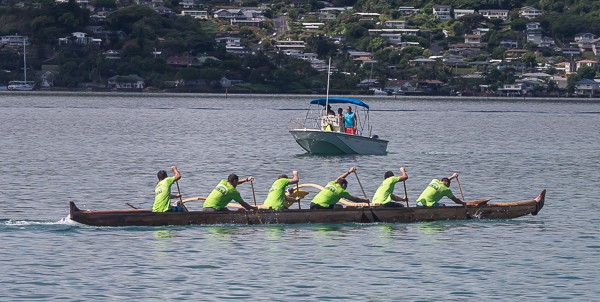 Off the line for the not so Novice B crew.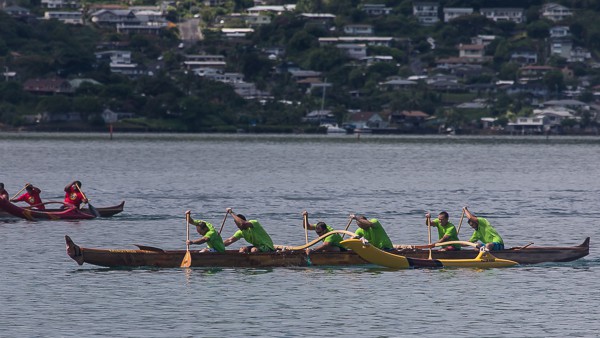 Pouring it on down the stretch!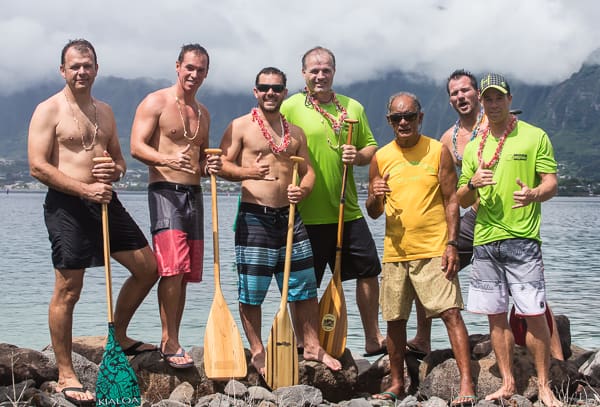 Next week we gettem!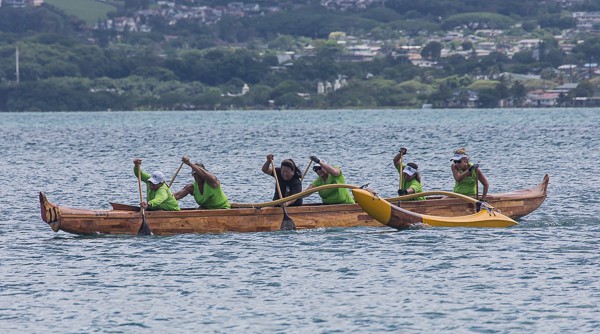 50s crew in action.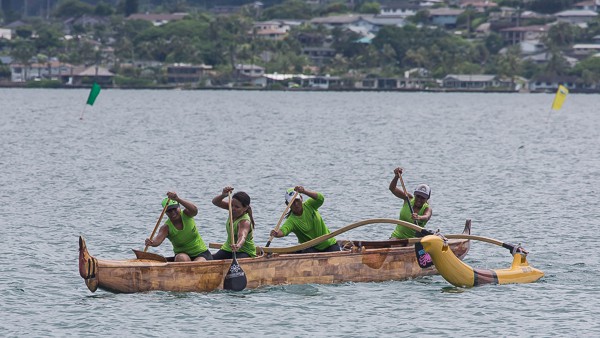 Open 4 ladies looking good!
Coming up – once more at Keʻehi for the final regatta of the OHCRA season.
OHCRA Championships 7/18/2015:
Keʻehi was hot for the final Oahu regatta of the season as clubs scrambled to qualify crews for the upcoming States in Hilo in two weeks. Ānuenueʻs Novice B gentlemen left no doubt as they swept to a solid victory over OCC to get things off to a good start. Ending up with 18 points and a third place in the "A" division, the club will have four crews competing as the womenʻs 60s, men and women 65s also qualified. Way to go everyone for a good season with lots of fun and support for all our crews!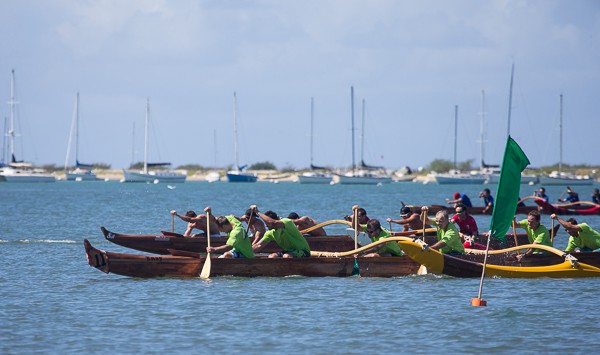 Novice B dudes beat Outrigger to the line!
Celebration time!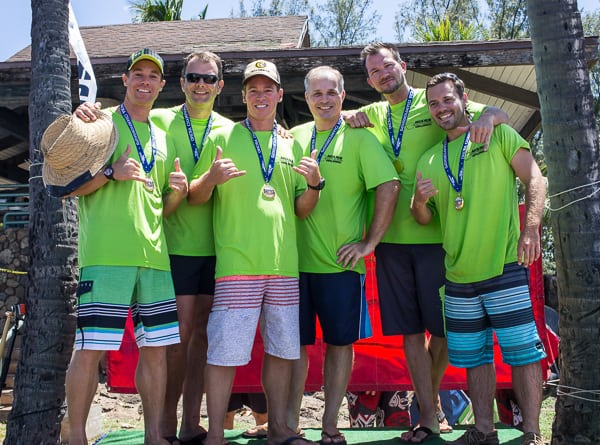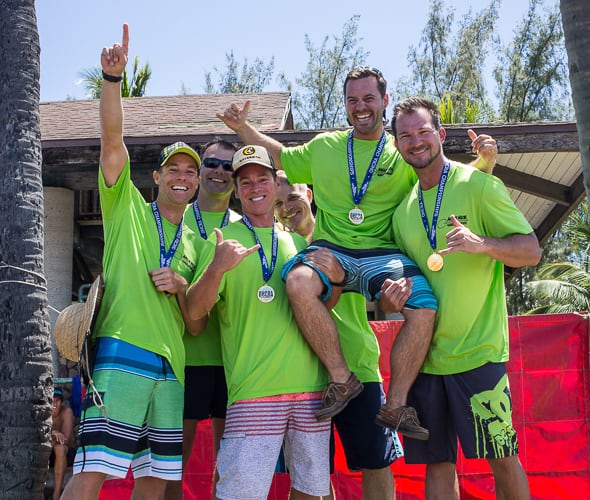 How sweet it is!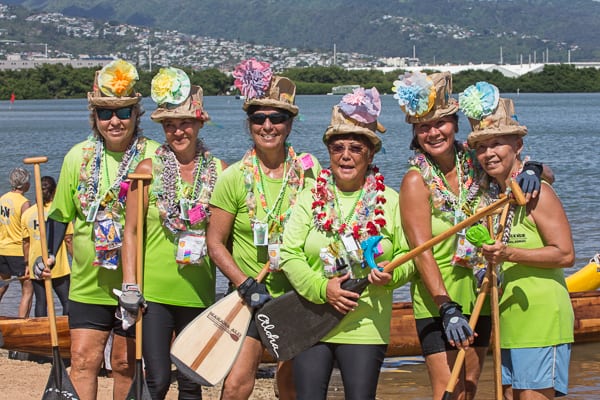 Hats off to the womenʻs 60s!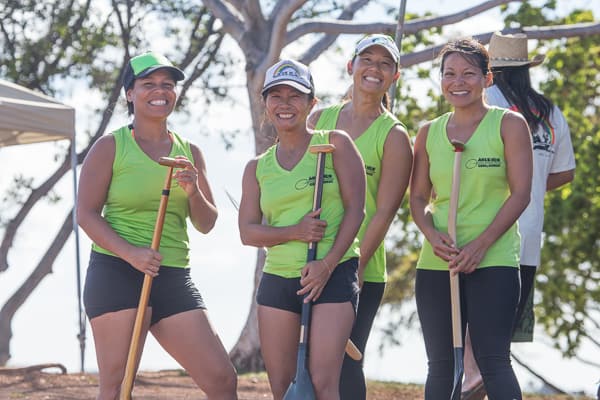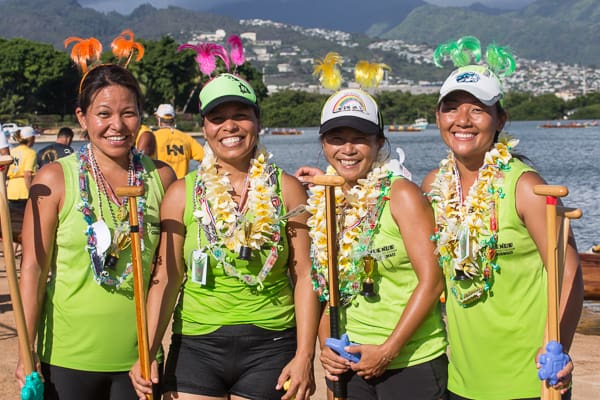 Open four is fun!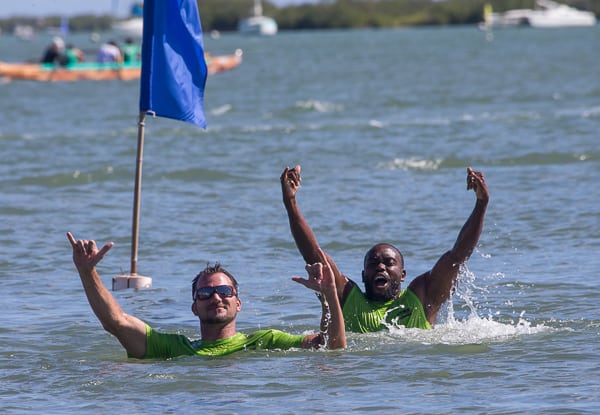 Props to our boatholders -thanks, guys!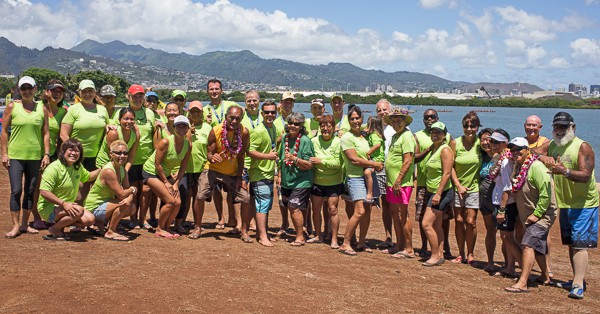 Life is good in Ānuenue green!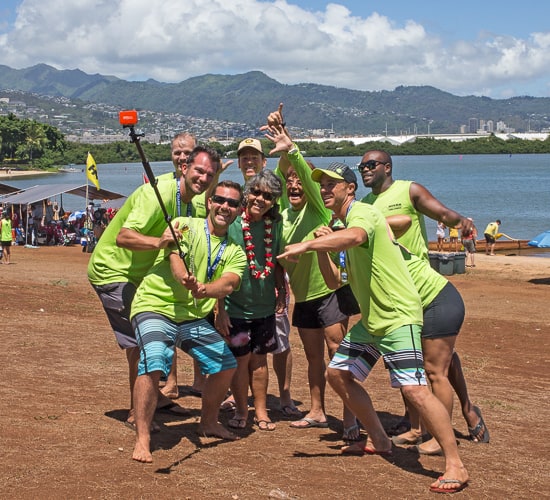 Team selfie!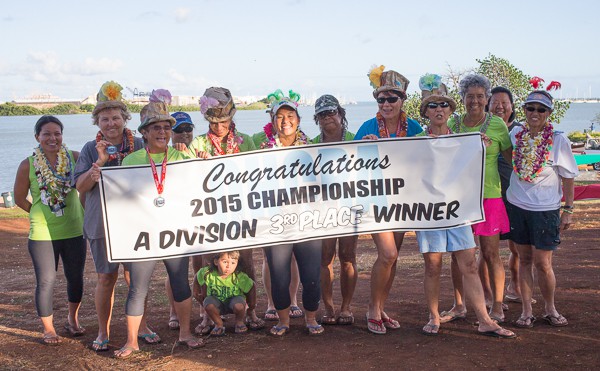 See you on the Big Island!
States 2015 at Hilo Bay:
Hilo lived up to its rainy reoutation for States 2015 as it was a grey day with intermittent showers until late in the afternoon. However paddlers from across the state did not let conditions dampen their enthusiasm. For Ānuenue, the day started early competing in the first two events of the day. Taking advantage of a favorable lane draw, the 65 women swept to a surprising fifth place in their race. Next up the 65 men did not fare as well as they had to deal with bumpier outside lane and current conditions.
With their new paddles and high hopes, the menʻs Novice B crew paddled to a solid third place despite their outside lane but missed out in collecting a medal due to an inadvertent rule violation after the race was completed. The 60 women did go home with a bronze in a reward for their third place finish.
As always despite the weather, it was a memorable day getting together with paddler friends from other clubs both old and new and cheering on all our crews. Once again, Mauiʻs Hawaiian Canoe Club took top honors among the big clubs. Ānuenue finished 10th out of 24 clubs in the "A" division behind winner Na Kai Ewalu also from Maui.Some of our paddlers returned later on race day while others stayed around a day or two longer enjoying Big Island specialties from Big Island candies to cliff dives at South Point.
Menʻs Novice B head out to Lane #11.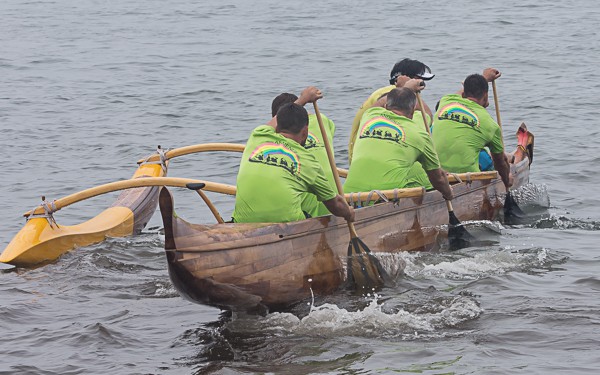 Go gettem boys!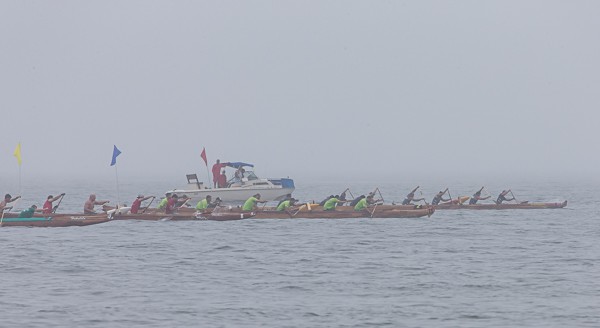 Off they go!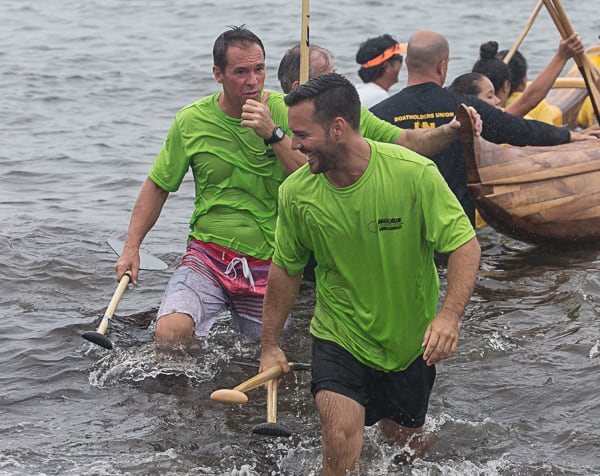 Yes – a job well-done.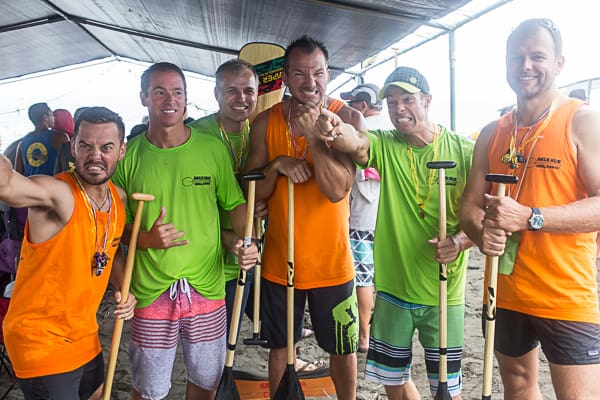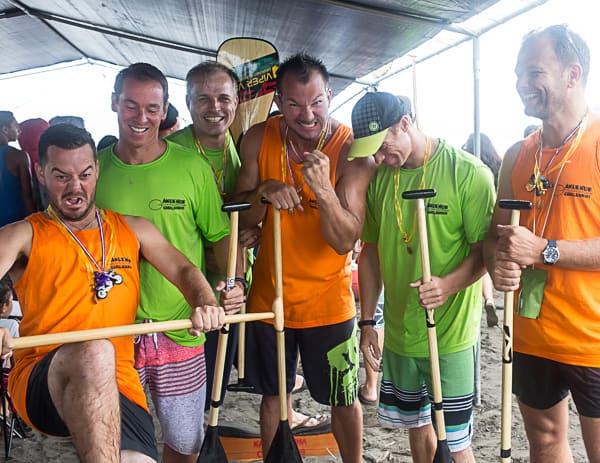 Post race poses: Disappointed but still proud.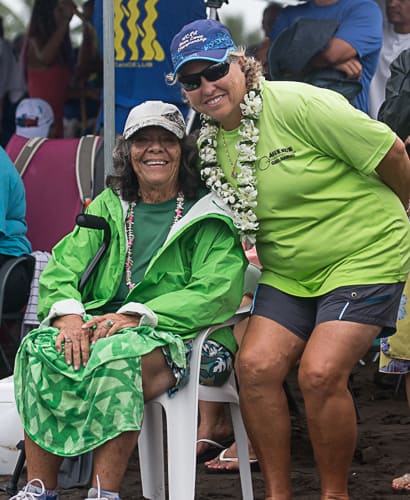 Anona made it!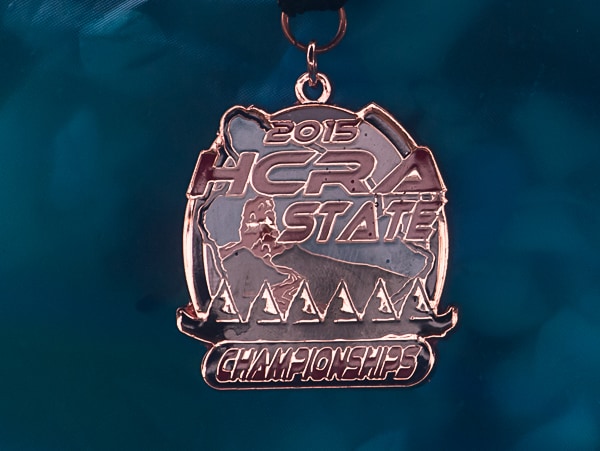 Regatta races in the rear view mirror: On to distance!!